Joint Conference Coming Soon:
ILMF (International LiDAR Mapping Forum) and ASPRS Annual Conference
February 5-7, 2018
Hyatt Regency Denver at Colorado Convention Center
Denver, Colorado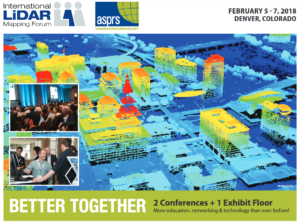 The geospatial industry will soon descend on Denver for what is certain to be the single largest gathering of geospatial professionals in the Rocky Mountain West — ever.  For mapping professionals, there's no better place for technical education, networking and sourcing geospatial solutions all in one place than at ILMF and ASPRS Annual Conference 2018!  It will be the best of ILMF and the best of ASPRS!!
Better Together!  Two Conferences and One Exhibit Floor
More education, networking, and technology than ever before!
You get to choose:
*ILMF Passport
*ASPRS Annual Conference Passport
*Combined ILMF-ASPRS Passport (Best Value!)
*Exhibit Hall Pass
Conference Websites
http://conferences.asprs.org/denver-2018/
http://www.lidarmap.org/
Technical Presentations
http://www.lidarmap.org/conference-program/
http://conferences.asprs.org/technical-sessions/
Workshops
http://conferences.asprs.org/workshops/
*Preparation for ASPRS Certification – LiDAR (Click Here to view an informational webinar about ASPRS LiDAR Certification)
*Practical Approach to Applying ASPRS Positional Accuracy Standards to Digital Geospatial Data
*Datums: How Important Are They?
*Rapid Imagery Analysis with GBDX Notebooks
*Total Propagated Uncertainty (TPU) of Lidar Data
*Quality Assurance of Lidar Point Clouds for Floodplain Modeling
*Generic Sensor Model for Optical Line Scanners and Framers
*Field Data Collection Techniques for the Development of Accurate Remote Sensing Ground-Truth
*Object-Based Image Analysis for National Resource Management
*Hyperspectral and Extended Multispectral Remote Sensing: Phenomenology. Sensor Systems, and Data Processing
*Preparation for ASPRS Certification: General Knowledge
*Aerial Triangulation and Data Processing for the Unmanned Aerial System (UAS)
*Unmanned Airborne Lidar for Precision Mapping